Pro Tip: Head over to www.spotify.com, log into your account, then come back here to listen to the full tracks from all our tastemaker playlists.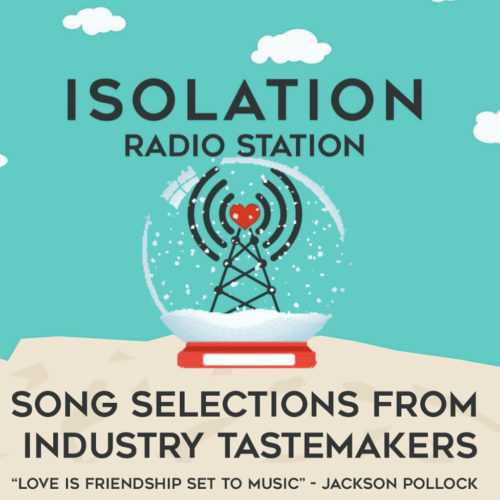 Isolation Radio Station Christmas Guilty Pleasures

What's your Christmas guilty pleasure?
Here's a totally crazy but brilliant mixed bag from some Isolation Radio Station friends to get you in the holiday mood......
Bridget Perdomo -  Merry Christmas / Happy Holidays - NSync
Brian Miller – Baby it's cold outside, Al Hirt Ann-Margaret
James Armstrong - What will Santa Claus say? – Louis Prima, Joe Wingy Manone
Keith D'Arcy – 25th of the 12th - Bill Compton
Moira McCarthy – Auld Lang Syne – Straight no Chaser
Nicholas Keenan – The Prayer – Andrea Bocelli
Andrea Minze – This Christmas – Donny Hathaway
Charlie Davis – Christmas in Hollis – Run DMC
Mike Ladman – Merry Christmas Baby – Otis Redding
Molly Salas – Rudolph the Red nose Reindeer - DMX
Patrick Joest – Deck the Halls – Nat King Cole
Michael Kauffman – White Christmas – Ella Fitzgerald
Ryan Koffman –Christmas wrapping – The Waitresses
Neil Cleary – Beautiful Christmas girls – James Kochalka Superstar
Matt Mugford – Amy Grant – Breath of Heaven
Jessica Shaw + Alec Stern – Last Christmas - Wham
Brad Burnside – The Man with the Bag – Kay Starr
Brandy Ricker – We wish you a Merry Christmas – Barry Manilow
Chris Marion - Sleigh Ride - TLC
Erin Blankstein - Christmas Lights - Coldplay
Dann Liebermann – River - Joni Mitchell
Dan Bewick - Fairytale of NY – The Pogues
Gareth Smith – Christmas time is here – Vince Guaraldi Trio
Scott Coleman - All I wish for Christmas - Tony Thriller
Dani Beauvoir - 8 Days of Christmas - Destiny's Child
Ian Dalsemer - Up on the House - The Jackson 5
Habib Mourra - Blue Christmas - Elvis
Kieran Seebach - Merry Xmas Everybody - Slade
J Bonilla - Wonderful Christmastime - Paul McCartney
MORE ISOLATION RADIOS STATIONS: